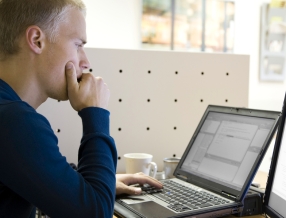 Are you having trouble stretching your reduced I.T. budget to meet everyone's demands?
Do you cringe at the idea of using an outsourcing/consulting firm because they are more interested in billing their exorbitant fees than doing a great job?
Wouldn't you rather use a Georgia-based software development company that gives you a money-back guarantee if you're not completely delighted?
Then you need CustomBytes!
The Elevator Pitch
We focus on projects that improve your top-line and bottom-line results. Projects that don't do that aren't usually worth doing.
We have developed a wide range of web-based, desktop, and mobile solutions for a diverse set of customers over the past twenty-five years. If you don't see a technology or environment listed either below or in the sample projects described on this site, check with us!
Our projects usually include one or more of the following technologies: Microsoft Windows programming using .NET (VB, C#); Linux and embedded system development; numerous database servers including Oracle, Microsoft SQL Server, MySQL, and others; a wide range of programming languages, including C/C#/C++, Java/J2EE, Perl, PHP, and VB.NET. If you have technologies really far off the currently beaten path, ask us about it.